Grounded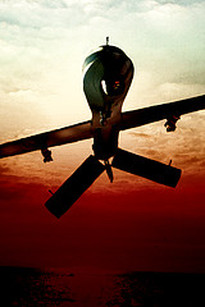 FULL LENGTH, Drama
1W
An unexpected pregnancy ends an ace fighter pilot's career in the sky. Reassigned to operate military drones from a windowless trailer outside Las Vegas, she hunts terrorists by day and returns to her family each night. As the pressure to track a high-profile target mounts, the boundaries begin to blur between the desert in which she lives and the one she patrols half a world away.
​PRODUCTIONS
Grounded
was first produced in a Rolling World Premiere from NNPN (SF Playhouse, Borderlands Theater, and Unicorn Theatre) and by London's Gate Theatre. Its New York premiere was produced by Page 73. It has subsequently received over 125 productions in 18 different countries and has been translated into 12 languages.
DEVELOPMENT
Workshops and readings at the New Harmony Project, Bay Area Playwrights Festival, National New Play Network, Manhattan Theatre Club, Unicorn Theatre, Georgetown University, NJ Rep, WordBRIDGE Playwrights Lab, and Generous Company's Gumbo Festival of New Theatrical Work.
AWARDS
Lucille Lortel Award for Outstanding Solo Show
The Smith Prize
Theatre Netto Festival Prize
NNPN Rolling World Premiere
Scotsman Fringe First Award
British Council Recommendation
Off-West End Theatre Award for Best Production of 2013
Arizona Daily Star Mac Award for Best Drama of 2013
Short-listed for the
James Tait Black Prize for Drama
Short-listed for the Amnesty International Freedom of Expression Award
PRESS
Named a Top 10 London Play of 2013 by both the
Guardian
and the
London Evening Standard
"
Grounded
is a heartbreaking, beautiful, necessary and perfectly-structured solo drama … an essential story for our times." –
The Scotsman
"Gripping…presents a convincing portrait" –
The New York Times
"As close to perfection as is possible to imagine...
Grounded
is a powerful, hallucinogenic experience." -
What's On Stage
"Critic's Pick. A scorching sharp-eyed, timely script…lets no one off easy…clap all you want at the end of the play—and you'll want to clap a lot—but the game stays with you" –
Time Out New York
"I was blown away…don't miss it" –
The Nation
"Thought provoking, thoroughly engrossing…pulses with the rhythms of an epic war poem" -
TheatreMania
"A stratospheric level of theatrical intensity."
The Telegraph
"Theatre at its most powerful and relevant." -
A Younger Theatre
"Four stars…compelling" –
Financial Times
"Explodes with sound and vision in a quietly political piece of work" –
Herald Scotland
"Must be seen…a play with a political point, but told with such depth and feeling that it becomes a thing of beauty." -
Fringe Review
"A brilliant, dazzling play." –
Conservative Home
"Powerful, never preachy, a must-see." -
Arizona Daily Star
Hot Ticket of the Edinburgh Fringe Festival -
BBC News
PUBLISHED
Oberon Modern Plays
Samuel French
---
Elephant's Graveyard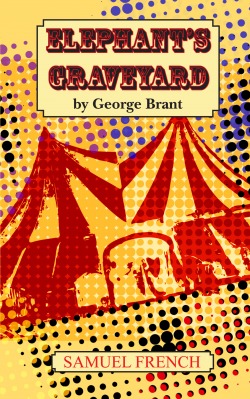 FULL LENGTH, Drama
11 M, 2 W (flexible casting)
The true tale of the tragic collision between a struggling circus and a tiny town in Tennessee, which resulted in the only known lynching of an elephant. Set in September of 1916, the play combines historical fact and legend, exploring the deep-seated American craving for spectacle, violence and revenge.
PRODUCTIONS
Bas Bleu Theatre, Denver, CO, 2017, directed by
Garrett Ayers
Theatre Pro Rata, Minneapolis, MN, 2014, directed by Amber Bjork
Red Tape Theatre, Chicago, IL, 2012, directed by James Palmer
TNT, Birmingham, AL, 2011, directed by Carl Stewart
Balagan Theatre, Seattle, WA, 2009, directed by Jason Harber
Trustus Theatre, Columbia, SC, 2009, directed by Robert Richmond
and over two hundred and fifty collegiate and high school productions
​DEVELOPMENT
Workshops and readings at the Kennedy Center, WordBRIDGE Playwright's Lab, Trinity Repertory Company, Open Fist Theatre Company, and Capitol Hill Arts Center.
AWARDS
The Keene Prize for Literature
David Mark Cohen National Playwriting Award from the Kennedy Center/ATHE
"Best New Play" citation from the Austin Critics' Circle
PRESS
"Vivid writing…immediate and heartbreaking." –
Austin Chronicle
"A theatrical masterpiece." –
Columbia City Paper
"
The most striking production in the (NSDF) festival." –
Times of London
"Dramatic poetry…remarkable in its use of language and imagery…eloquent and thought-provoking."
–
Onstage Columbia
"Deeply moving…has the audience in stitches at the open and tears at the close." –
TheSunCoast.com
"A testament to effective storytelling." –
Seattle Theatre Examiner
"
A fantastic new play…like the best art…mesmerizing…buzzes with truth." -
The Stranger
PUBLISHED
Samuel French
---
Marie and Rosetta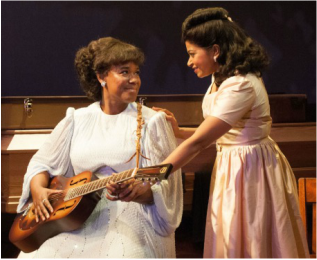 FULL LENGTH, a play with music
2W
Bringing fierce guitar playing and swing to gospel music, Sister Rosetta Tharpe was a legend in her time and a huge influence on Elvis Presley, Johnny Cash, Jimi Hendrix and Ray Charles. Marie and Rosetta chronicles her first rehearsal with a young protégée, Marie Knight, as they prepare to embark on a tour that would establish them as one of the great duos in musical history.
​
​PRODUCTIONS
Cygnet Theatre, San Diego, CA, January 2019
​Cleveland Play House, Cleveland, OH, January, 2018
Cincinnati Playhouse in the Park, Cincinnati, OH, February, 2018
​Detroit Public Theatre, Detroit, MI, February, 2018
The Atlantic Theater, New York, NY, September, 2016
DEVELOPMENT
Workshops and readings at The Playwrights' Center, New Harmony Project, and TheatreWorks Silicon Valley.
AWARDS
2016 Edgerton Foundation New Play Award
PRESS
"Mighty music-making...when it sings, it really swings." -
The New York Times
"It is so rare for a play about the inner lives of black women to center on their intimacy and not world politics or degradation that the very fact of George Brant's loving two-character script, strongly and sensitively directed by Neil Pepe, is refreshing." -
The New Yorker
"Delightful...overflowing with heart and music, this show is a not-to-be-missed example of what the theater can do with music once it lets go of all the rules typically associated with musical theater...It's enough to make the theater faithful stand up and shout "Hallelujah!" -
TheatreMania
"Wonderful, touching, and empowering...as good as anything that has been on stage in recent years in capturing both the joy and pain of being an African-American woman." -
The Daily Beast
​"A spectacular show...if much of the world has forgotten Sister Rosetta Tharpe and Marie Knight — and, certainly, a lot of us have — playwright George Brant makes an intimate yet spectacular case for correcting that wrong." -
Newsday
​"As
Marie and Rosetta
reaches its lovely, melancholy finale, you realize just how much you have come to care for two women at mid-century, armed with talent and faith, making their way in a world that has little use for strong, independent black ladies." -
Lighting and Sound America
"Four stars...heavenly...you don't have to be religious to know when you're in the presence of glory." -
Time Out New York

​
"Four stars - rocks and roars...
Sister Rosetta's spirit is smiling down on this inspired production." - Detroit Free Press
"If you are a fan of the Genesis of the rock and roll story, and the often un-billed or under appreciated influence of black artists, let alone that of a black women trying for appreciation and recognition in the Franklin Roosevelt years, then your knowledge is not complete without seeing this play." - EncoreMichigan
---
Into the Breeches!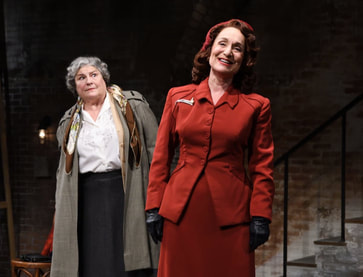 FULL LENGTH, Comedy
6W, 2M
Oberon Play House's director and leading men are off at war with the Axis. Determined to press on, the director's wife sets out to produce an all-female version of Shakespeare's
Henry V
, assembling an increasingly unexpected team united in desire, if not actual theater experience. Together they deliver a delightful celebration of collaboration and persistence when the show must go on! A surprisingly modern and moving comedy about the singular way art and community reveal our boldest selves even in the darkest times.
PRODUCTIONS
Trinity Repertory Company, Providence, RI, 2018, directed by Tyler Dobrowsky
DEVELOPMENT
Commissioned by Trinity Repertory Company, Providence, RI. Workshops and readings at the McCarter Theatre Center and Hermitage Artist Retreat.
PRESS
"A gem of a play, one of the sweetest nights of theater you're likely to see this season...a wonderful cast of characters...a lot of magical moments in this not-to-be-missed show." -
The Providence Journal
​
"An absolute delight...
thought-provoking and heartwarming...like a breath of fresh air that will leave one smiling like a dope at the end...Brant has done an exceptional job creating female characters who feel authentic...
a lovely undercurrent of empathy in the whole production...
so many hilarious moments." - BroadwayWorld
​"Touching, timely, triumphant...
heartwarming and hilarious – yet political, tough and thought-provoking." - Westerly Sun
"An
estrogen-fueled triumph...a delightful story of perseverance and friendship in the face of challenge...
lighthearted and funny, but the message is a timeless one." - The Sun Chronicle
"The show will make you laugh out loud, clap enthusiastically and shed a tear or two - no small feat." -
Edge Media Network
"Hilarious...a delightful celebration of collaboration and persistence when the show must go on...t
his show fills us with warmth, thoughtfulness and especially laughter to sustain us during times of stress...
a rousing good time with a bit of nostalgia thrown in for good measure." - TheaterMirror
"A delightful romp into the past that shines a bright light on just how far we've come since the dark days of World War II and how far we still have to go." -
Newport Mercury
"A
surefire hit...the audience may still be howling...
pure delight...
rollicking theatrical entertainment." - RI Central
"Will leave you in stitches...w
ithout preaching to us, Brant raises issues of equal pay, male dominance, prejudice, the importance of the theatre, taking risks, roles for older actresses and homosexuality. All of this is carried out in two laugh-out-loud acts that showcase the comedic abilities of the cast." - Cranston Online
---
Salvage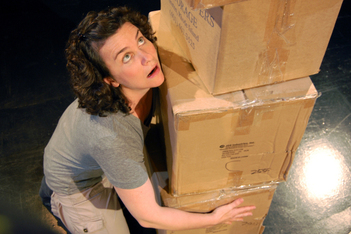 Mariah Sage
FULL LENGTH, Drama
3W
Danny's sister and mother have just laid him to rest and now find themselves racing against time to rescue his prized possessions from the family basement before a flood hits. Enter Danny's high-school sweetheart to lend a hand – but is she here to pay her last respects or to keep Danny alive forever?
PRODUCTIONS
None Too Fragile Theatre, Akron, OH, May, 2017
Theatre 4, at the NYC Fringe Festival, August 2012, directed by Maryna Harrison.
Theatre 4, New Haven, CT, April 2012, directed by Maryna Harrison.
DEVELOPMENT
Commissioned by Theatre 4, New Haven, CT.
PRESS
"As the dialogue among these three women intensifies into a roller-coaster ride of vulnerability and deception, one shocking secret is revealed after another. Yet despite the harsh twists of what-ifs and missed chances, the play leaves you with the saving graces of family loyalty and endurance."
-
TimeOut New York
"A fantastic, dark portrait of three women at the end of their rope...so rich and compelling that you can't wait to see what's around the bend." -
nytheatre.com
"A winner...a remarkable thread of hope...that should keep the play in production for some time."
- The Happiest Medium
"Compelling...engrossing...moving." -
Cleveland Plain Dealer
"A must see experience." -
Broadway World
"There's enough tragedy and hope involved in there for a couple different plays." -
Scene Magazine
"Compelling and powerful..."wow" is too small a word." -
The Balcony and Beyond
"Magic...a gem of a play."
- CT Out and About
"A powerful piece of writing...refreshingly provocative." -
Conneticut Critics Circle
---
Dark Room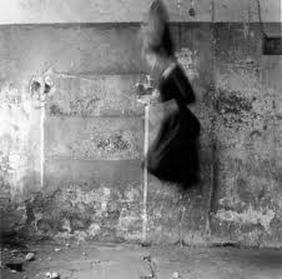 FULL LENGTH, Drama
6W

A theatrical response to the haunting photographs of Francesca Woodman, a singular artist who flourished in the 1970's before taking her own life at the age of 22.

PRODUCTIONS
Bridge Repertory Theatre, Boston, MA, Summer 2018, directed by Olivia D'Ambrosio.
​
​DEVELOPMENT
Readings and workshops at Theatre @ Boston Court, Towson University, the MacDowell Colony, the Djerassi Resident Artists Program, and elemental theatre collective.
---
Any Other Name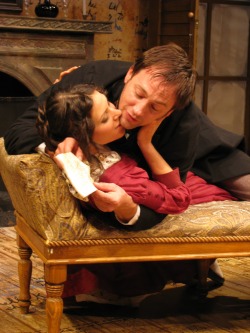 Audra Taliercio and Fletcher McTaggart
FULL LENGTH, Comedy/Drama
​3M, 1W
A dark comedy (or light tragedy) about poetry, madness, and identity theft in Victorian England.

PRODUCTIONS
​Williams Street Rep, Crystal Lake, IL, 2017, directed by Brad Raimondo
Winnipesaukee Playhouse, 2014, Meredith, NH, dir. by Bryan Halperin
Aquinas College, Grand Rapids, MI, 2010, directed by Randy Wyatt
Premiere Stages, Union, NJ 2009, directed by John Wooten

DEVELOPMENT
Workshops and readings at Equity Library Theatre Chicago, Shakespeare in Clark Park, Trinity Repertory, and WordBRIDGE Playwright's Lab.



AWARDS
Winner of the Premiere Stages New Play Festival
Clauder Competition State Winner
Best Original Play, New Hampshire Theatre Awards

PRESS
"O. Henry noir…rings with relevance…highly charged…intelligent, cynical, disturbing and easy for 21st century theatergoers to relate to…nearly flawless." – The New York Times

"There hasn't been a melodrama in quite a spell as amusingly macabre or as preposterously affable as Any Other Name." – Curtain Up

"Gripping and engrossing…the audience is kept on the edge of its collective seat."
- Worrall Community Newspapers

"Fast-paced…mesmerizing…a fascinating glimpse of human nature at its worst…an ingenious new play."
– Westfield Leader

"Juicy melodrama…clever and entertaining." – Talkin' Broadway


---
Grizzly Mama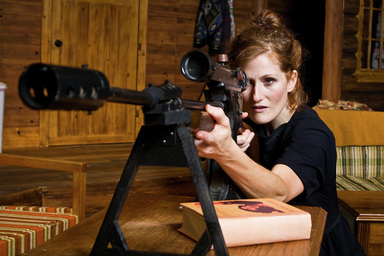 Heather Anderson Boll
FULL LENGTH, Dark Comedy
3W


Deb is a divorced suburban mom who reimagines herself as a righteous liberal avenger following the death of her activist mother. Her daughter Hannah is a typical texting teenager - that is, until she discovers the real reason why mom moved them next door to a certain Alaskan presidential candidate. A dark comedy about motherhood, murder, and moose.
PRODUCTIONS
Rivendell Theatre, Chicago, IL, September 2016, directed by Megan Carney
Gamm Theatre, Pawtucket, RI, January 2016, directed by Rachel Walshe
Dobama Theatre, Cleveland Heights, OH, September 2011, directed by Laura Kepley
DEVELOPMENT
Commissioned by Dobama Theatre, Cleveland Heights, OH.
PRESS
"Roars with biting humor...outstanding...genuinely funny." -
Cleveland Plain Dealer
"Hilarious...clever on so many fronts...engaging, fluid and delightfully entertaining." -
News-Herald
"The perfect choice for a severely dysfunctional political climate...takes some surprising twists and turns that keep the viewer not only glued but guessing about what is coming next. The knockout punch lies in the totally unexpected and shattering climax, something you will not forget any time soon." -
Cleveland Jewish News
"Finds the funny in political mayhem...a blast of non-stereotypical surprises and plenty of dark humor...an accomplishment no one can refudiate." -
Scene Magazine
"Downright hysterical...powerful as well as completely entertaining."
- The Sun Chronicle
"Brilliant, explosive...packs a heavy emotional punch." -
Providence Edge

"A powerful, entertaining, and haunting piece of theater" - Valley Breeze
---
Good on Paper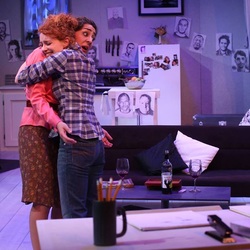 Mehry Eslaminia and Caitlin Wise
FULL LENGTH, Comedy
2W, 3M
A reverse-gender take on the Pygmalion legend, a romantic comedy in which a police sketch-artist falls in love with one of her drawings.
PRODUCTIONS
Creede Repertory Theatre, Creede, CO, 2015
Arvada Center, Arvada, CO, 2015

DEVELOPMENT
Workshops and readings at Cleveland Play House, The Playwrights' Center, Ground UP Productions and the MacDowell Colony.
PRESS
"5 Stars...a great night of entertainment...pure enjoyment...cannot be missed." - Denver Examiner

"It is almost impossible not to laugh, and laugh loudly, at this hilarious fun romantic comic romp."
-
North Denver Tribune
"A fierce new comedy." - The Durango Herald
"Delightful...
Good on Paper
is great on stage." -
The Valley Courier
---
The Mourners' Bench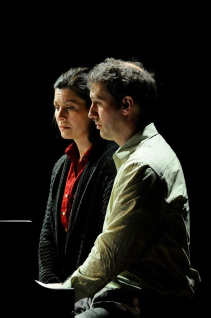 Angela Brazil and Mauro Hantman
FULL LENGTH, Drama
4W, 2M
An emotional puzzle-play that skips back and forth in time as it tells the story of a living room and its three sets of inhabitants, all struggling to overcome the tragedy that took place within its walls.
PRODUCTIONS
Trinity Repertory Company, Providence, RI, March 2012, directed by Michael Perlman.
DEVELOPMENT
Workshops and readings at Trinity Repertory Company, the Hangar Theatre Pilot Reading Series, the Blue Mountain Center, HRC Showcase Theatre, Florida Studio Theatre and WordBRIDGE Playwright's Lab.
​PRESS
"Shattering…hypnotic…a poetic, evocative play that manages to pack an emotional punch.
Its construction is almost as masterful as its dialogue." -
The Providence Journal
"First-rate...a gleaming gem...haunting." -
The Boston Globe
"Remarkable…a breathtaking piece of modern American theater…explosive…a must see."
–
The Sun Chronicle"Powerful...an exquisitely performed sonata…why regional repertory theaters came to exist in the first place." – Providence Phoenix
"Touchingly humorous…absorbing and thought provoking…will stay in your memory."
–
The Woonsocket Call
"Brilliant…seldom does a new play come along that challenges the audience in such a positive, thoughtful way." – Warwick Beacon
"Keeps you guessing and spellbound…brilliant." – NBC10
"Haunting and compelling…well worth a visit." - Providence Monthly
PUBLISHED
Samuel French
---
Three Voyages of the Lobotomobile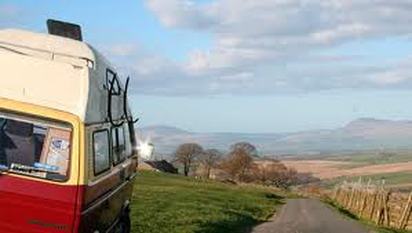 FULL LENGTH, Drama
3M, 1W

A play about the inventor of the American lobotomy, Dr. Walter J. Freeman, and his tireless, deluded, and ultimately tragic quest to spread the good news of his medical procedure across America. The play presents Freeman's life in a triptych of scenes - home, work, and retirement – and explores the dark side of the American myth of the confident genius, the brilliant inventor who will stop at nothing to achieve his dream.

DEVELOPMENT
Workshops and readings at Asolo Rep Theatre, Cleveland Play House, the Playwrights' Center and PlayLabs, Actors' Theatre of Grand Rapids and the Djerassi Resident Artists Program.
---
All Talk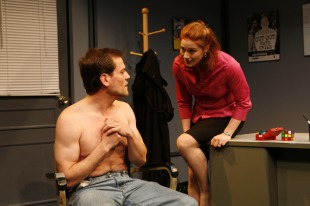 Peter Patrikios and Jessie Austrian


Dark Comedy
3M, 3W

A collection of three one-acts - Pillow Talk, Shop Talk, and Baby Talk - ranging from a cabin ghost-story, to a probation officer discovering the sexual perks of her job, to a baby-swap caper.




PRODUCTIONS (as separate one-acts)
Elemental Theatre Collective, Providence, RI 2011, directed by Alexander Platt (Baby Talk)
Elemental Theatre, Providence, RI 2010, directed by David Rabinow (Pillow Talk)
Drama League Director Fest 2008, NY, NY, directed by Laura Kepley (Shop Talk)

PRESS
"Well-crafted…as clever as it was engaging." – The Providence Journal

"Layers of narrative suspense…as absorbing as a campfire tale." – Providence Phoenix

"Crisp writing…fascinating and very original." - WarwickOnline

"Hilarious...clever, original and dark...will have you in stitches." - WarwickOnline

"Charming and funny...lots of laughs...comedy gold." - Examiner.com

"Beautifully constructed one-act...perfect." - Providence Phoenix


---
Defiant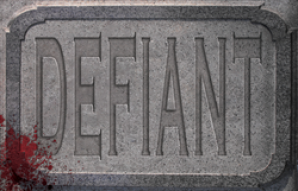 FULL LENGTH, Drama
4W, 3M

A woman incurs the wrath of a grieving country when she refuses to memorialize her husband following his death in a national tragedy.


PRODUCTIONS
Debutantes and Vagabonds, Austin, TX, 2011, directed by Amanda Garfield

DEVELOPMENT
Workshops and readings at Playwrights Foundation's Rough Festival, Guerilla Shakespeare Company and Brick Monkey Theatre Ensemble.


---
Ashes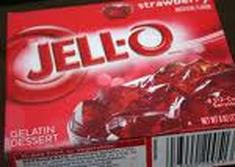 FULL LENGTH, Drama
2M, 1W
A disturbing and violent modern-day ghost story, as a son is visited by the abusive spirit of his father, who is set on destroying his life a second time.

DEVELOPMENT
Workshops and readings at Trinity Repertory Company, Elemental Theatre Collective and Austin Scriptworks.


---
Miracle: A Tragedy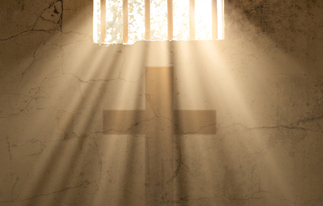 FULL LENGTH, Drama/Dark Comedy
5M, 1W

A play in verse about the evangelical wing of a Florida prison, and the chaos unleashed when a former inmate proposes to the Minister's daughter.

DEVELOPMENT
Workshop at InterAct Theatre
Workshop at Dobama Theatre

---
Little Sir Echo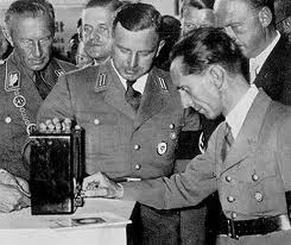 FULL LENGTH, Drama with music
1M, 5 flexible (musicians)

A one-man (and his band) play with Swing about the strange but true life of Karl Schwedler, a German big-band singer recruited by Josef Goebbels to become part of the Nazi propaganda machine by fronting Charlie and His Orchestra, a swing band designed to break the morale of the Allied Forces.



---
Night of the Mime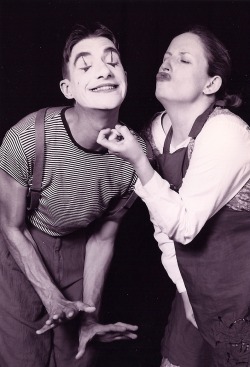 George Fuller and Jackie Sidle
FULL LENGTH, Comedy
4W, 3M

A parody of both story theatre and coming-of-age-through-the-death-of-ones-pet stories such as Old Yeller, Night of the Mime tells the tale of the young farm girl Taffeta and her devotion to the wild mime she claims as her own.

PRODUCTIONS
Olde Meiningens Players, Minneapolis, MN,2013, directed by Barb Roy
zeppo productions, Chicago, IL, 2001, directed by George Brant
StreetSigns, Chicago, IL 1995, directed by Derek Goldman

AWARDS
Clauder Competition Honorable Mention



PRESS
"Critic's Choice. George Brant's clever satire on the Old Yeller – Yearling – Charlotte's Web school of juvenile fiction delivers plenty of laughs." – The Chicago Reader

"It's high time this (story-theater) got a satirical comeuppance...hits every excess dead -on... endearing.. ...awesome." - Windy City Times


---
One Hand Clapping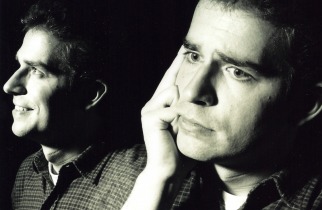 George Brant and George Brant
ONE-ACT, Comedy
1M
The most moving and perceptive one-man show ever written.

PRODUCTIONS
zeppo productions, Chicago, IL 2001, directed by Laura Kepley
Factory Theater, Chicago, IL 1998, directed by Laura Kepley

AWARDS
Winner of the Factory Theater's "Shut Up and Laugh" Competition
PRESS
"Critic's Choice. Hilarious…very funny in a weird sadomasochistic way…magic." – The Chicago Reader

"Tip of the Week….extremely funny….spares no one." – New City


---
The Royal Historian of Oz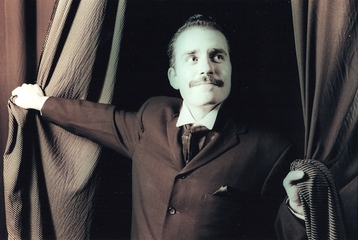 George Brant
FULL LENGTH, Drama
1M, 1W

A (mostly) one-man show about the life and times of the author of the Wizard of Oz books.

PRODUCTIONS
zeppo productions, Chicago, IL 2001, directed by Laura Kepley



PRESS
"Draws us into Baum's universe…any viewers with dry eyes might well wish for a wizard to give them the hearts they must lack." – The Chicago Reader


---
BORGLUM! The Mount Rushmore Musical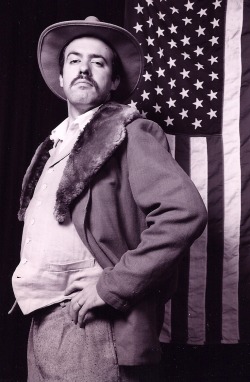 James Sullivan
FULL LENGTH, Musical Comedy
7M (flexible casting)

The pseudo-historical, semi-factual, comic musical biography of John Gutzon Borglum, sculptor of the colossus known as Mount Rushmore.

PRODUCTIONS
zeppo productions, Chicago, IL 2001, directed by Laura Kepley
zeppo productions, Chicago, IL 1999, directed by George Brant

PRESS
"Riotous...an all-American theme park revue that consistently inverts lofty democratic ideals." - New City


---
Tights on a Wire
(written with J.P. Manoux)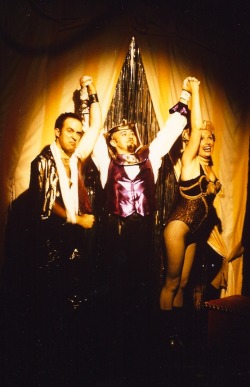 James Sullivan, Mark Vanasse, Jackie Sidle
FULL LENGTH, Musical Comedy
6M, 4W

The tragedy of the Gambonis, a family of wire-walkers whose prideful Papa forces them into a doomed competition with the newest addition to the circus, a lunatic family of cannon-ballers.

PRODUCTIONS
zeppo productions, Chicago, IL 1997, directed by George Brant

PRESS
"With nods to Shakespeare, Sophocles, Ibsen and Arthur Miller and an intentionally comic book style, it mocks theatrical conventions and circus stereotypes in a literate, imaginative script with more twists than the India Rubber Man. Songs that have surprising charm...could become a cult hit." – Chicago Sun-Times

"Hilarious....Brant has a flair for combustible caricatures and deft
parody." - Windy City Times


---